Overview
ORA includes full-featured support for FamilySearch.
Search Results
ORA adds Record Status icons to search results. You cannot assign a new record status via a search results entry. The FamilySearch results list is subject to scripts that provide interactive features and those features prevent ORA from opening the menu to assign a status value. You can assign a status value from the record details page.
Control Panel
The ORA Control Panel appears on FamilySearch record detail pages where the record details are the primary content of the page. When you click on a row in the search results, that opens a panel that shows the record details, but that is not a record details page. It is a large panel that opens on the search results page.
There are three ways to open a record page:
From the search results page, the right-most column includes up to three icons. Click the to open the record details page in the same tab.
From the search results page, click anywhere on a search result row to open the details panel. In the upper right corner of the details panel, click the "Open in a new window" link to open the record details page in a new tab.
If a record details page includes links to related records, you can click one of those links to open a record page.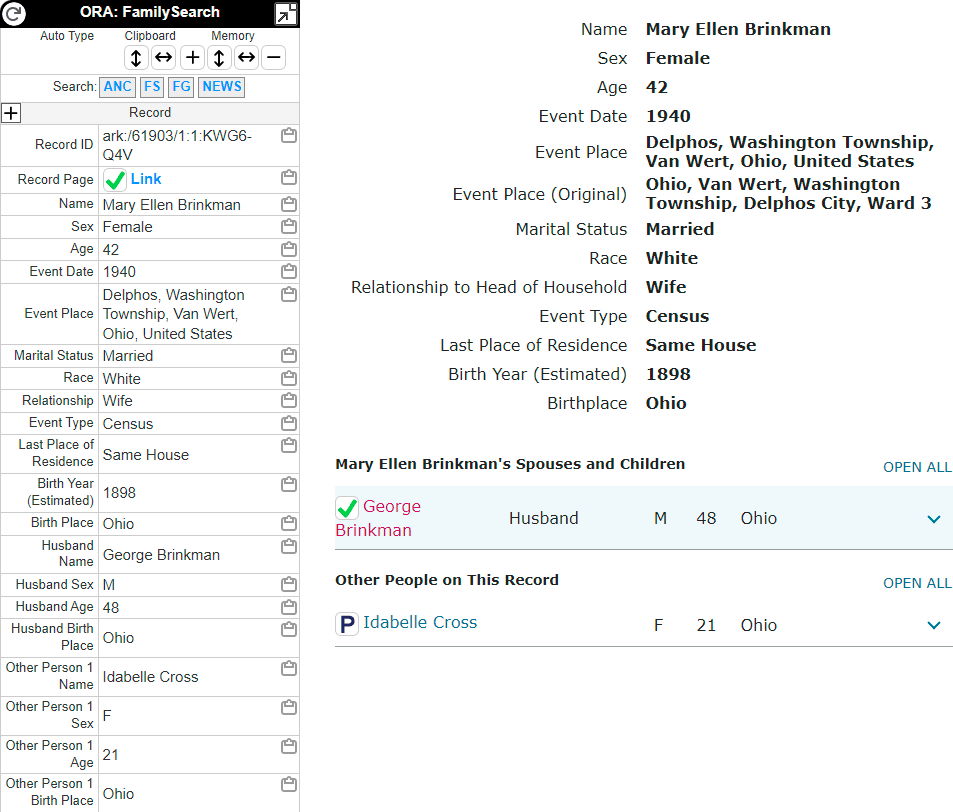 Collections
FamilySearch has a thousands of collections. ORA detects collection names and ID numbers from record detail pages and adds them to the collections list on the OraSettings page.
Known Issues
If you use a FamilySearch [Edit] link to provide a correction to a record, FamilySearch opens an edit panel on the same page. ORA is not aware that the panel has been opened, and the ORA Control Panel will be in the way of the editing controls. In a future version, ORA will hide the Control Panel. A workaround you can use for the time being is to collapse the ORA Control Panel before you click the Edit link.